10 ton truck mounted crane SQ10SK3Q
SQ10SK3Q 10-ton straight truck mounted crane operates more smoothly, with good self-locking performance and high vehicle stability.
Model: SQ10SK3Q
Maximum lifting weight: 10t
Rated lifting moment: 25t.m
Crane weight: 3800kg
Enquiry about 10 ton truck mounted crane SQ10SK3Q

Description
Product Introduction
The SQ10SK3Q 10-ton straight truck-mounted crane adopts the single-cylinder cable synchronous telescopic technology, which has higher working efficiency. Advanced research and development methods ensure design reliability. Pentagonal and hexagonal boom technology, good neutrality, and strong cross-section bending resistance.
Main Parameters
Boom length/

Arm end lifting weight
Remarks: This product is continuously improved with the progress of technology. The difference between the parameters and structural characteristics listed above is subject to the actual product.
Performance Characteristics
1, Throttle Control System
Changing the form of the previous manipulation and throttle operation individually, Realization of the bilateral handle synchronous and driving throttle acceleration and deceleration automatically, due to the speed change steady, it can easily carry out the lifting work.
2, End position automatic hook device
Maximum savings in preparation time before and after the operation, to ensure that customer's vehicle could be driving in the shortest time and prevent crane damage accidents caused by hoist swings to enhance the safety of driving.
3, Hoisting overwinter device
If a user is negligent or unfamiliar with the operation of lifting hooks, the hoisting overwinter device will stop hook-raise in time, to prevent the safety of personal and property caused by fracture of wire rope.
4, Slewing locking device
Slewing locking device can ensure that the lifting arm does not sway because of the centrifugal force during the driving and steering process of the vehicle, to avoid all kinds of accidents caused by swaying.
5, Dual pump converging
The hydraulic system adopts a dual high-pressure gear pump, and a multi-way valve hoisting joint to realize the converging, and improve the speed of the winch, at the same time, it can realize the compound action of the crane.
6, Torque limiter
It can select torque limit overload protection device to prevent users because of negligence or unfamiliar with the lifting operation principle of overload operation, thereby causing the vehicle rollover and crane damage accidents.
Product Images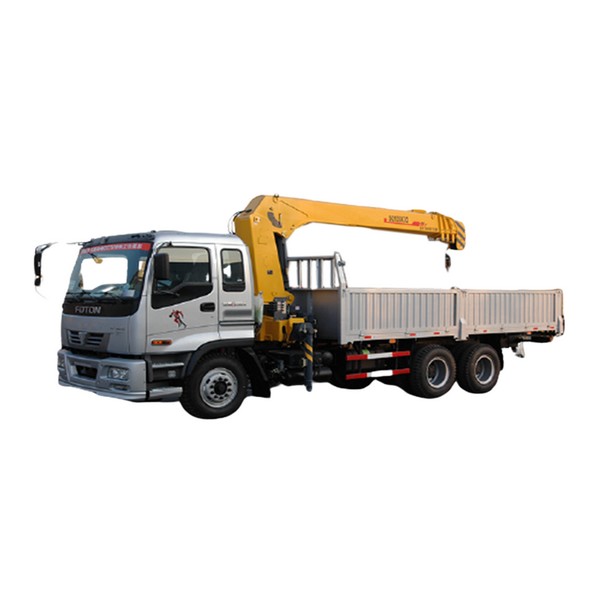 CASE RECOMMEND