RP605 road paver machine for sale
The RP605 road paver machine is a construction equipment mainly used for pavement of various classifications.
Model: RP605
Total mass: 16.5t
Maximum paving width: 6m
Dimensions (L×W×H): 6180×2500×3800mm
Enquiry about RP605 road paver machine for sale

Description
Product Introduction
The RP605 paver is a piece of construction equipment that is mostly used for various types of pavement. This product incorporates a great deal of advanced technology and the advantages of similar foreign products, including independent left and right walking drives and the world's most advanced technology, such as computer control technology with powerful protection functions, ultrasonic liquid level sensing, electronic automatic leveling, and fault self-diagnosis, and thus embodies the characteristics of the advantages of others. The device uses a hydraulic telescopic single rammer pulse vibration electric heating screed that has achieved the highest technical level in the domestic market. The machine's major supporting elements are imported, and they meet the same manufacturing quality and reliability standards as similar imported items. This machine is perfect for laying down asphalt and concrete materials.
Main Parameters
Remarks: This product is continuously improved with the progress of technology. The difference between the parameters and structural characteristics listed above is subject to the actual product.
Performance Characteristics
(1) The walking track has a big grounding area and a powerful driving force; the walking system uses high-reliability imported brand hydraulic components. The track shoes are 300mm split, which allows for easy disassembly and reduced maintenance costs.
(2) The separate feeding and distributing systems on the left and right are powerful and sufficient. Easy to use one-button hydraulic distributing lifting device with proportional speed adjustment;
(3) To improve construction stability and road surface forming quality, the E450 hydraulic telescopic screed uses a four-support structure and a single-vibration compaction mechanism; it also uses clever frequency conversion heating technology for more effective heating.
* All relevant spare parts for RP605 paver are available.
Product Images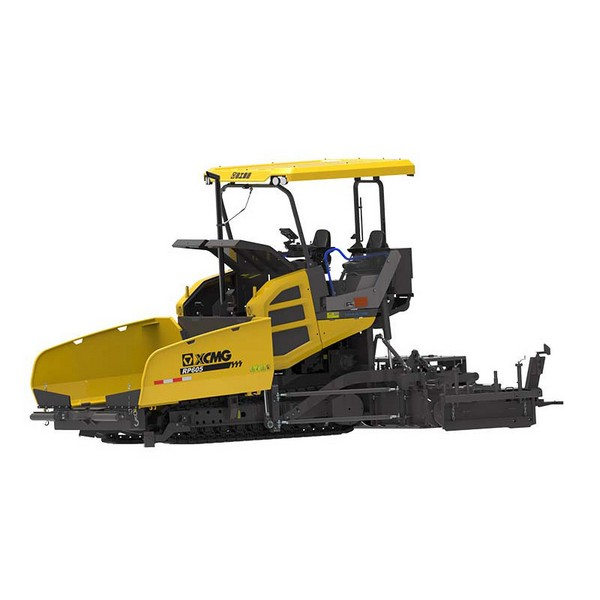 CASE RECOMMEND