What to pay attention to when operating a straddle carrier?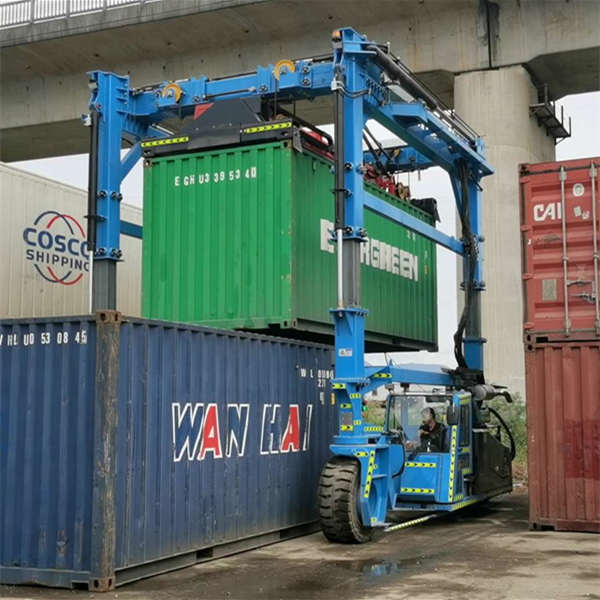 What to pay attention to when operating a container straddle carrier? With the continuous development of my country's machinery industry, the development of crane machinery is also very rapid. Now, cranes are widely used, such as in the mining industry, construction industry and so on. The container straddle carrier itself is special equipment, so in terms of operation, we should pay more attention to avoid accidents. Let me introduce to you a few points that should be paid attention to when operating the container straddle carrier:
Before we operate, we must first ensure that the workplace must be flat, solid, and free of potholes.
Before the operation of the container straddle carrier, it is necessary to carry out a trial hoisting.
The straddle transporter must keep the wire rope vertically hoisted during operation to avoid accidents.
There should be some distance between the hook and the pulley of the container straddle carrier, especially when lifting heavy objects at a high place, so as to avoid the hoist from being over-headed and prevent the wire from being pulled off, thus causing the boom to flip back.
During the operation, the operator should pay attention that the handle should not be manipulated by turning the outrigger, and the hanging object should be lowered first, and then adjusted.
The operator cannot lift the heavy objects on the ground casually, which may cause overload operation and cause accidents.
When working in rainy and snowy weather, workers should pay more attention.
After reading this article, do you have the answer to the question of what to pay attention to when operating a container straddle carrier?
CCMIE has a factory specializing in the production of handling equipment, and also provides overall technical solutions, and can customize non-standard products according to customer requirements. Our positioning is very specific, which is to focus on revolutionary innovative technologies at home and abroad, and provide services for factories, warehouses and logistics centres around the world after learning from independent innovation. Our company can undertake the design and production of various non-standard products, and the products are exported to Dalian, Tianjin, Qingdao, Xi'an, Shanghai, Shenzhen, Nanning and foreign Southeast Asia, the Middle East, Africa, etc.